Bill's Headlight Restoration & Auto Detail
"Don't drive with UGLY headlights"
212 Hewitt Dr. Waco, Tx. 76712 (Right beside Regal oil change center)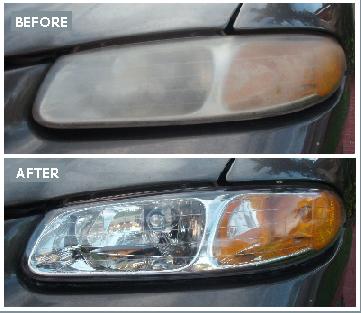 We use a very unique six-step process to restore your headlights. First we use a special cleaner that strips the yellow film off the surface of the headlights. Second we use a special wet sand to remove the old damaged clear coat. Third, we smooth and remove all the scratches. Fourth, we polish them with a special compound. Fifth, we use a prep solution to open up the pores of the raw plastic. And in the final step, we apply the UV protective clear coat which brings back the original luster and shine!!
The whole process takes approximately 45 minutes to an hour...
DRIVING WITH FADED YELLOW HEADLIGHTS CAN BLOCK APPROXIMATELY 98% OF YOUR NIGHT VISION. PLUS IT MAKES YOUR LATE MODEL CAR,TRUCK,VAN,OR SUV LOOK OLD AND WORN OUT!!!

CHECK OUT THE NEXT PAGE, click on the 'ABOUT' button at the top of this page.